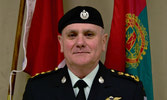 Colonel J. Cade, OMM, MSM, CD (Retired)
Incoming Colonel of the Regiment
Jamie Cade served 37 years in the Canadian Army, rising to the rank of colonel. During his military career he was stationed across Canada, in Germany, Australia and Mexico. He first served with the Lord Strathcona's Horse (Royal Canadians) in 1984 as a Reconnaissance Squadron Troop Leader and was a Tank Troop Leader attached posted to the Royal Canadian Dragoons in Germany. Career highlights include command of A Squadron with the 2 Princess Patricia's Canadian Light Infantry Battle Group's NATO peacekeeping mission in Bosnia, Commanding Officer of the Strathcona's, Army G3, Deputy Commander Joint Task Force Afghanistan and Commandant Canadian Army Command and Staff College. Jamie concluded his military career as the Canadian Defence Attaché to México, Belize, Guatemala, Honduras, El Salvador, Nicaragua and Panamá, where he was responsible for coordinating and facilitating international Canadian defence relations.
Jamie Cade is now an independent consultant who specializes in international business relations, crisis management and strategic planning. Since 2016, he has assisted multiple Canadian companies with their business activities in Canada, United States, Colombia, Guatemala and México.
Jamie Cade's educational background includes a Bachelor of Arts Degree in Military and Strategic Studies from Royal Roads Military College (1984) and Master's of Defence Studies from the University of Canberra (1999). He is currently completing a certificate program in Fundraising Management with St Lawrence College.
Jamie Cade was born in 1961 in Barrie, Ontario, and raised in Vancouver, British Columbia. Living in Kingston, Ontario, he speaks English and Spanish, and is a very active volunteer. Jamie is also a history enthusiast, avid world traveller, enjoys the outdoors and always welcomes a new challenge.
Recognition of achievements include the Meritorious Service Medal for his service as Deputy Commander Joint Task Force Afghanistan (2009), the Order of Military Merit (2012) and the Canadian Forces Chief of Defence Staff Commendation for his work in México and Central America (2016).