Atlantic Branch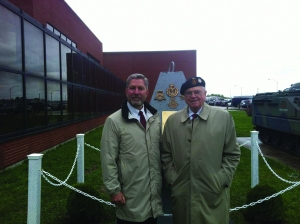 Honorary President – John Swanton;
President – Maj (Retd) Dan Hone;
Vice President – Maj Dave Cronk;
Secretary – Maj (Retd) Robert Stoney (loyalistlaw@gmail.com/(506) 488-8012);
Treasurer – MWO (Retd) Dave Blanchard;
Social Secretary – MWO Tom Holland;
Executive Members At-Large – Maj Jamie Hunter
The success of the LdSH(RC) Regimental Association Atlantic Branch is based solely on the interest and active involvement of Strathconas - both retired and serving. For those who served in the Regiment for only a short period and retired wearing another cap badge, be it Logistics, Chaplain or Dragoon, we also welcome you. Remember, "Once a Strathcona, always a Strathcona."

To become a member simply provide one of the Executive with your contact information and you're in. The LdSH (RC) Regimental Association Atlantic Branch does not collect dues (yet) and all of its events are 'pay as you go'. If you have photos or ideas on how to grow the Branch, please let us know. Please consider getting involved and encourage other Strathconas you know to also get involved and help foster the Regimental spirit on the East Coast.

Upcoming Events

The Atlantic Chapter invite you to attend the Melfa River Golf Day taking place on June 11th, 2016 beginning at 0900 hrs. It's always a lot of fun, and the beer cart is never far away!!!!

Location: Gage Golf & Curling Club - 55 Fraser Ave, Oromocto, NB
Cost: $80.00 for two people including a cart or,
$35.00 per person plus $20.00 for the cart (for anyone that wants to go as a single)
RSVP: Sgt John Goobie if you plan on attending - john.goobie2@forces.gc.ca
The game will be a Shotgun Start and the Golf Pro will be there to explain the details.
There may be a BBQ later that day, but this is yet to be confirmed.
If you are in the Gagetown area on June 11th, we would love to have you join us.

Dan Hone
Atlantic Chapter of the Strathcona Association


3 Score, 10 years and 13 days later

Tuesday, August 5, 2014

Let's face it, the world easily forgets. That's why they always go over the top when it comes to anniversaries such as the recent D-Day 70th Anniversary.
<! -------- Eof Page Content --------->