Moreuil Wood 2018
The Regiment recently received a poem written by Ms. Lamont Mackay, whose father was wounded at Moreuil Wood in 1918. Her brother, Bob Mackay, is the author of Soldier of the Horse. To read the poem, please follow the following link.
Moreuil Wood 2018 Photos Needed
Strathconas,

Now that the 100th Anniversary of the Battle of Moreuil Wood celebrations have come to an end, the Regiment, with cooperation from the Regimental Society, is looking to produce a limited edition photobook that showcases the amazing events that have taken place across the country and in France.

Call for Photos
In order to produce a quality publication, we are calling on all members of the Regimental Family who attended any of the many activities to share your original, high quality photos with us. All photos that are submitted are to identify who took the photo, so proper credit can be given and who is in the photo. All submissions will be considered for inclusion into this publication by the Commanding Officer, Regimental Sergeant-Major and the editor, Major Nitu.

For your convenience we have set up a DropBox file folder for you to upload your photos. You do not need to have a DropBox account to upload to this folder. https://www.dropbox.com/request/3iulLWe3r2cYT6PD3Oq2?oref=e

Don't forget to upload a word document that lists the names of those in the photo!

Please note that dropbox links do not work on DWAN computers. You will need to upload photos from your personal computer/device.

Deadline for photo submissions is Tuesday, April 24th, 2018. If you are not familiar with using Dropbox to upload files, please see the instructions that we have prepared for you.

***Note if you were the OPI for one of the many MW events and have sent your photos to Maj Wong directly, please disregard this call for photos.

Photobook
Celebrating the 100th Anniversary of the Battle of Moreuil Wood was a once in a lifetime opportunity and we know that there will be interest from the Regimental Family to purchase a copy of the photobook. While the layout and design are still in the infancy stages, we are envisioning a publication very similar to the Strathconian, with more photos and less text. It is anticipated that the cost of this publication will be no more than $15/copy plus any applicable shipping. This will be a great memento of our history.

For your convenience, we have set up a form that members of the Regimental Family can fill out that will let us know of your interest in purchasing this photobook.

Please note that filling out this form is not a commitment to purchase, but will give us an idea of the interest so we can coordinate with our publisher. We will connect with those who have expressed an interest sometime in May to discuss continued interest and payment options. It is expected that the photobooks will be ready to distribute to the Regimental Family between mid-late June.

To express your interest in a Moreuil Wood 2018 Photobook, please follow the following link to be taken to an online form. https://goo.gl/forms/u3D1uPLr80bJHows1

Please note that this links does not work on DWAN computers. You will need to access the link from your personal computer/device.

Deadline for receiving photobook purchase interest is Tuesday May 15th, 2018.

We look forward to receiving your photos of this milestone anniversary.
LCol Mark Lubiniecki CWO Rob Clarke
CO LdSH(RC) RSM LdSH(RC)
How Can You Help?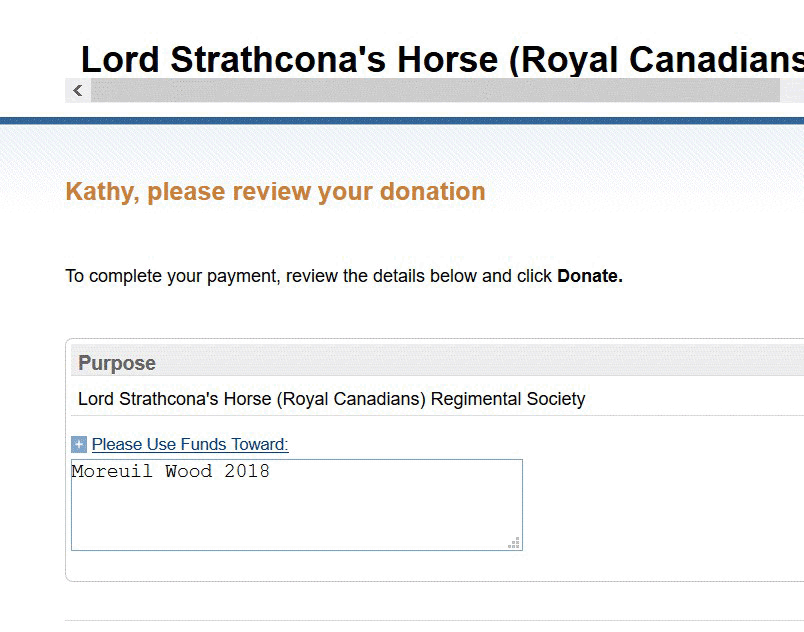 If you are interested in supporting the Regimental Society's Moreuil Wood 2018 initiatives, we would first like to thank you for your consideration. For your convenience the Society has a number of donation options available, and we encourage you to visit our How You Can Help page for more information.